Photo courtesy of the London Free Press
With the 2015 NBLC Playoffs just around the corner, NBLCNET is taking a look at each playoff series, breaking down each matchup to determine who we believe will be the eventual winner in each series.
When the Brampton A's joined the NBLC, it was assumed their biggest rival would be the Mississauga Power, considering they are the two GTA teams in the league. However, it became rather clear after that first season that the A's true rival resided in London. That first season had the A's and Lightning battling all year for the 2nd seed in the Central Conference all year long, a battle the A's won. Unfortunately for Brampton, the more experienced Lightning were able to go the distance, defeating the A's in a 5 game classic. The two foes find themselves in the same position this year, with the battle for home court advantage going down to the very last game of the season, and with Brampton again taking the #2 seed. Will history repeat itself? Or is Brampton ready to take their next step as a franchise?
FRONTCOURT
There is one matchup in this series that could decide everything, as the two players represent so much for their respective teams, and that is the matchup between London's
Marvin Phillips
, and Brampton's
Cavell Johnson
. Both players have are well known in NBLC circles, and very time they've met, it's been a fight. Johnson is dominant on defence, having won Defensive POY last season, and his ability to play responsibly on both ends frees up the A's gunners to score. Phillips is just a beast, the only "walking double-double" in the league. The former MVP has put up another award caliber season, averaging 20 points and 10 rebounds yet again. Phillips can drift around the 3 point line a bit much if he can't assert himself in the post, so if Johnson can force Phillips outside, the A's can handle the Lightning star. The Lightning will be without
Jonathan Mills
, who suffered a season ending ankle injury, leaving it up to
Darnell Lazare
and
Elvin Mims
to pick up the extra work. The A's tend to have a more guard heavy lineup, but look for Brampton to use
Akeem Ellis
at forward and
Tom Granado
at center. Ellis has solid range from the 4 spot and compliments Johnson well. Granado doesn't usually leave much of a mark on the stat sheet, but his size combined with Johnson's play style could be tough for London to handle.
Advantage: Lightning
Johnson is a rare talent, but Phillips is just a little bit better. Losing Mills hurts though.
BACKCOURT
This is going to be a looooong section here, as both teams have very guard/wing heavy lineups. For London, it starts with
Emmanuel Little
. The newcomer has been phenomenal, and is the most consistent player the Lightning have. He's basically been an automatic 18 points, and when the team struggled with consistency down the stretch, well, let's just say it would have been a lot worse without Little. The A's lack a player who can truly matchup with him, so Little could be in for a big series.
Al Stewart
runs the point, and while he doesn't score a ton of points, he manages the offence effectively and plays great defence. He'll have his hands full with the A's
Akeem Scott,
who's has been excellent for Brampton, providing a mix of scoring and play making. Scott's passing is important, as the A's rely on his ability to find
Bryson Johnson
,
Zane Johnson
and
Kyle Johnson
(none of whom are related), the A's 3-point shooters. Bryson and Kyle are swift, and use screens well to get their shots, while Zane has lethal range. London only really has two 3-point shooters of their own in
Ed Horton
and
John Hart
, so if the series turns into a shootout, the A's have the advantage. The key for London may lie in the play of
Brent Jennings
. After taking a couple of games to get used to his new team, the former Brampton A has settled in as the third option, after Phillips and Little. His game is similar to Little, so if Little does get shut down, Jennings will feel pressure to make up for it. He should have plenty of motivation, as it was the A's who traded Jennings mid-season.
Advantage: A's
I almost made this a tie, as both teams have a ton of playmakers, and point guards who can get them the ball. I just think that the A's 3-point shooting is an extra element that ever so slightly gives Brampton an advantage.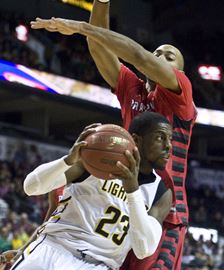 X FACTOR
London: If the Lightning get caught in a shootout, they'll need John Hart to catch fire. The 5th overall pick in the 2014 draft has done it before, and makes some shots that are out of this world, but he can also be invisible at times, and only recently returned from injury. Being able to insert Hart into their lineup can add another dimension that not many of the Lightning players have, and the spacing that Hart can create with his shot would give Phillips more space to work with in the post. Some well timed scoring streaks from Hart would go a long way towards matching the A's explosiveness.
Brampton: It's hard to believe I've gone this whole preview without mentioning the reigning player of the week,
Tyshwan Edmondson
. He's usually been the top scoring option off the bench for the A's, but can also be a little bit more prone to chucking than Johnson (all three of'em). In Brampton, the most touches tend to go to whoever the hot hand is, and most often Edmondson has been that player. If Brampton is successful at pushing the pace, it'll be because Edmondson managed to get hot.
Advantage: A's
This section basically comes down to which shooter can get hot, and I believe that Edmondson is the most likely of the two to step up.
INTANGIBLES
London: Winning in the playoffs isn't new to London. The Lightning won back to back championships in 2012 and 2013, and took the eventual 2014 Champion Windsor Express to 7 games in the Conference Finals. Both Phillips and Mims remain from the 2013 championship, while Stewart has been to the past two finals as a member of the Summerside/Island Storm. Ed Horton also brings big game experience from his days in the ABA, where he was the Finals MVP. Perhaps the biggest advantage London will have is their home games, as London boasts the best attendance numbers in the league by a wide margin, giving the Lightning a ton of energy to feed off of.
Brampton: You can be sure of one thing, coach David Magley knows what to expect. Magley has been to London on scouting trips so often that he's as much of a fixture at Lightning games as the ball is. The A's will be ready for London. What the A's don't have a lot of is playoff experience, with only Cavell Johnson and Zane Johnson having any sort of NBLC experience prior to this season. The team is on an upward trajectory after a rough start, and winning a playoff series is the next step for these guys.
Advantage: London
London has a ton of NBLC playoff experience, and guys who have won it before. Brampton is still a young team.
VERDICT
Flip a coin. They had nearly identical records in the regular season, split the season series, and needed all 5 games to decide a winner last season. I would be stunned if this series doesn't go the distance. The Lightning have been hot, having won their last four, and I worry that Brampton doesn't have a true, go-to, crunch time scorer, but I think the A's offence will just be a little too much for the Lightning to handle.
Brampton wins the series 3-2